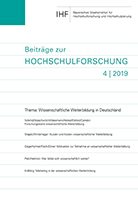 Journal of Higher Education Research
Orientation, themes and target groups
"Journal of Higher Education Research" is one of the leading scientific journals in the area of higher-education research in German-speaking countries. Characterised by high quality standards, a broad spectrum of topics and an extensive reach, it combines scientific standards with relevance to practice as well as many different disciplines and approaches to particular topics.

The journal can look back on a long tradition. Since its establishment in 1979, the journal has been published four times a year and contains articles on changes in universities, colleges, academies and other institutions in the area of tertiary education as well as on developments in higher education and science policy from a national and international perspective.
The main fields of interest are:
Governance of higher-education institutions and research institutes
Control and optimisation of higher-education processes
Funding of higher-education institutions
Quality assurance and measurement of performance
Courses of study and students, implementation of the Bologna process
Transitions between school, higher-education institution and the labour market
New generation of researchers and scientists, academic careers
Gender inequalities in science
Science and industry
Internationally comparative higher-education research
Scientific research
The journal publishes quantitative and qualitative empirical analyses and comparative studies as well as articles that provide an overview of specific issues and have undergone an anonymous peer review process (double blind). It serves as a platform for the exchange of research results and a forum for higher-education researchers and experts from the practical sphere. In addition to issues of the journal that reflect the entire spectrum of higher-education research, issues dedicated to particular topics appear at regular intervals. For these, there is usually a call for papers. Manuscripts in German or English can be submitted at any time.
The journal is directed at scientists who are concerned with questions relating to higher education and its development as well as at political decision-makers, higher-education managers, employees in higher-education administration, ministries and scientific and higher-education organisations.
An editorial advisory board provides support regarding the contents of the journal and how they are dealt with. The board consists of the following members: Prof. Dr. Katrin Auspurg (Ludwig Maximilians-Universität Munich), Dr. Dr. Lutz Bornmann (Max-Planck Society), Prof. Dr. Monika Jungbauer-Gans (University of Hannover, DZHW), Prof. Dr. Georg Krücken (University of Kassel, INCHER), Prof. Dr. Isabell Welpe (Technische Universität Munich, IHF), Dr. Lydia Hartwig (IHF).
If you wish to be sent the journal regularly free of charge, we will be pleased to include you on our mailing list.
To register for inclusion on the journal mailing list, please go to the homepage of the Institute for Higher Education Research and Planning (IHF)